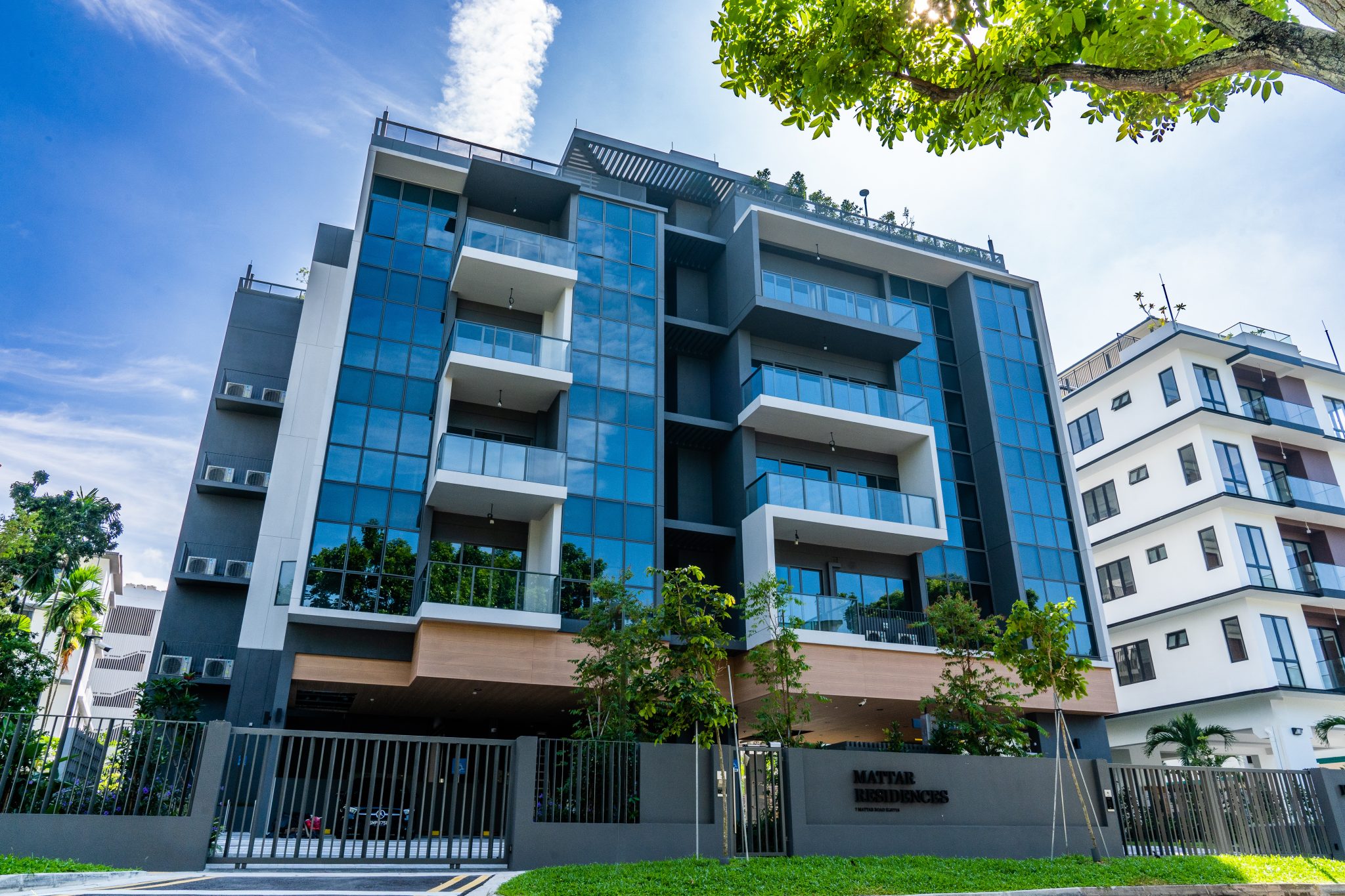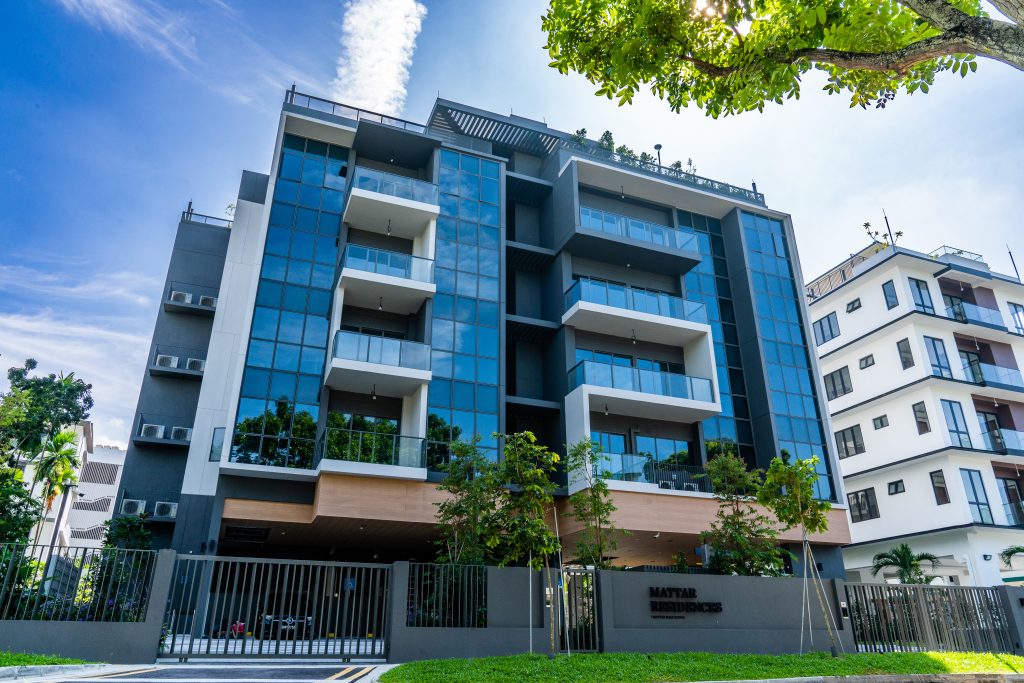 Book Appointment To View ShowFlat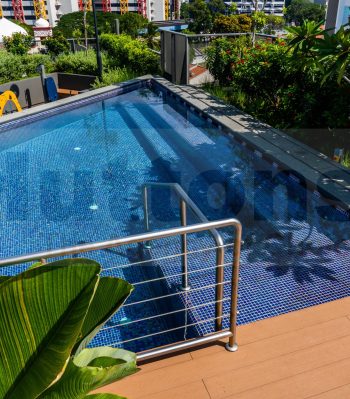 Freehold Development Next to Mattar MRT Station
Mattar Residences is brought to you by developer LK Ang Construction which is a joint venture of Hock Lian Seng Holdings, Keong Hong and TA Corporation Limited.  Located at 7,9 Mattar Road, the upcoming freehold development sits on a land site of approximately 14,337.65 sqft. Mattar Residences offers 2- 4-bedroom unit types which suitable for investors and home stay buyers looking at a freehold city fringe development of Singapore. The development has several facilities like lap pool, gym, club lounge, and open-air pavilion for the residents of all ages to utilize.
It is next to Mattar MRT stations which is the downtown MRT line.  The development is located next to 2 major expressways such at Pan Island Expressway and Kallang Expressway which makes Mattar Residences a very attractive residential development in terms of accessibility and connectivity.
There are plenty of amenities surrounding Mattar Residences, major shopping malls and neighborhood groceries stores are within proximity to the freehold development in District 14 of Singapore.  Shopping malls like PLQ mall, City Plaza, I12 Mall, Parkway parade are some of the major malls that provides a whole range of retail, Entertainment, Dining and enrichment classes cater to the young and old.
For Schools, Geylang Methodist School, Macpherson Primary School and Canossa Catholic are some of the popular schools for parents' considerations that are close to Mattar Residences.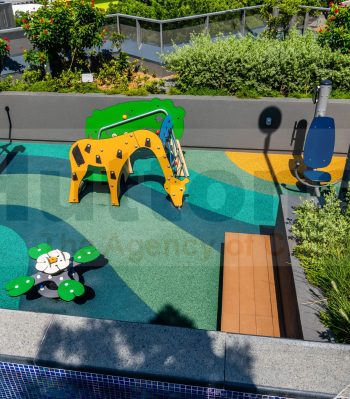 Kallang URA Transformation
There are several upcoming Kallang URA transformation happening near to Mattar Residences. The existing Kallang Industrial estate will be changed into a long term mixed used precinct along the waterfront.  The Kallang River will see a full rejuvenation for more new homes, recreation, workplaces and public communal spaces for the residents. Kampong Bugis which next to lavender and Kallang MRT Stations will see it transforming into a recreation and housing estates which promotes community interactions. The Kallang riverside park will be revamped into a brand-new waterfront park for the family.
Sport Singapore is introducing more community and sporting facilities to bring more vibrancy for Kallang Sports Hub Area. The Kallang football hub will see more pitches for training and public to utilize and enjoy. A new Singapore tennis Centre will be developed at a central location at Kallang offering more courts and sheltered new courts for the public to make bookings.
Mattar Residences located at Mattar Road will be one of the exciting new residential developments to enjoy and stay for many years to come. Do make an appointment to view the showflat and receive the latest updates for pricing, floor plans and E brochure. More information on the project details and balance units chart of Matter Residence can be found on this official developer website.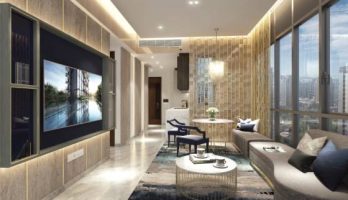 Mattar Residences Developer
Mattar Residences is proudly brought to you by developer L.K.Ang Construction which a joint venture of Hock Lian Seng Holdings, Keong Hong and TA Group.  All of them are leading developers and contractors in the real estate industry in both Singapore and South East Asia region. Hock Lian Seng Holdings Limited is a listed company on SGX which has more 50 years of construction engineering expertise in Singapore. They have completed several major engineering projects which includes viaducts, airport infrastructure, MRT stations, Marina Coastal Expressway and MRT Depot at Kim Chuan.
In 1987,  Hock Lian Seng Holdings completed their first residential development at Marine View Mansions. They have completed several industrial and commercial developments such as The Skywoods, ARK@Gambas and SHINE@Tuassouth. The Group has always stay firm in their belief to provide and deliver excellent choice and quality developments that enhance the living quality and making an impact the real estate development.
Keong Hong Holdings is listed on the Singapore Stock Exchange and their main businesses are property development, hotel and building construction in Singapore. The Group has several investment portfolios in both Japan and Maldives. Over the years , they have received various awards and accolades for its excellent service standards and contribution to the real estate industry.
Their impressive track records include Seaside Residences, SkyPark Residences, Twin Waterfalls, The Amore and Parc Life. Holiday Inn Express Singapore Katong, Mecure Maldives Kooddoo Hotel and Hotel Indigo Singapore Katong are some of the hotel past track record.
TA Corporation Limited is a listed Group which has more than 45 years of track record. They are a well-established construction and developer group in both Singapore and several Asia regions. They first started real estate development in 1995 and has experience and competencies in the real estate and construction industries.
TA Corporation has expanded beyond Singapore to Thailand, China and Cambodia. Their latest overseas project is The Gateway located at Phnom Penh, a mixed-use twin tower development.
Feel free to make an appointment to view Mattar Residences showflat and receive the latest updates on the project details.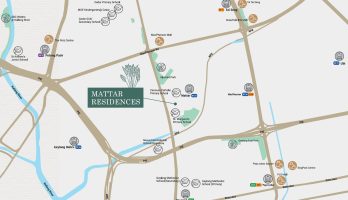 Mattar Residences Location Map
Situated at 7 Mattar Road, Mattar Residences by Developer, L.K Ang Construction is next to Mattar MRT station.  The upcoming District 14 freehold development is located at prime city fringe of Singapore and is next to several major expressways like Pan Island Expressway and Kallang Expressway. The connectivity and accessibility to Singapore Central Business District and other parts of Singapore are some of the perks living in Mattar Residences.
Major shopping malls like City Plaza, PLQ mall, I12 Mall many more are located near to Mattar Residences which offer a huge variety of F&B outlets, Retails and Entertainment establishments for all ages.
Groceries stores like NTUC Fairpirce can be found near walking distance to Mattar Residences. Sims Vista Market & Food Centre and 80 Circuit Road market & food centre are some of the places which serve authentic local food cuisines.
For schools, Geylang Methodist School, Canossa Catholic Primary School and Macpherson Primary School are some of the top choices for parents looking to enroll their children to schools near Mattar Residences.
Matter Residences will witness Kallang River URA  Master Plan Transformation where there are more parks, communal areas and amenities for the residents staying in the area.
Feel free to check out Mattar Residences Project Details and location map. Do make an appointment to view the showflat and the floor plans, E Brochure and pricing will be out soon.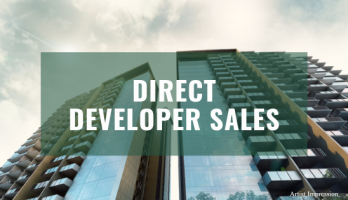 Mattar Residences ShowFlat
If you are keen to view Mattar Residences showflat, we will advise you to book your showflat appointment through this developer website directly or you can simply call +65 6100 8187 in advance before you come down to view Mattar Residences Showroom. The showflat time to time might be closed for weekly regular cleaning on certain days and on some weekdays for routine maintenance works or developer's private events. Therefore, it is encouraged to secure and book the appointment online before heading down to the showflat.
For interested buyers whom had registered the showflat appointment  with us, you will get to enjoy Official Direct Developer Price with NO COMMISSION payable by you.
However please do note that all balance units for sale at Mattar Residences by L.K.Ang Contruction Pte Ltd are based on first-come-first serve basis. If you would like to reserve a unit at Mattar Residences before heading down, we will be able to assist you only for a period of not more than 2 hours and is subject to management's approval.
Mattar Residences' price is subject to change without further notice from developer.
Book An Appointment to view Mattar Residences Showflat & get VVIP Discounts (Limited Time), Direct Developer Price, & Hardcopy E-Brochure. Guaranteed with Best Price Possible.
OR
Fill up the form on the right and get a copy of Mattar Residences Price, E-Brochure, and Latest Updates!
Strictly no spam policy.